Celebrating 40 Years of Hearing Care Service in Massachusetts
Celebrating 40 Years of Hearing Care Service in Massachusetts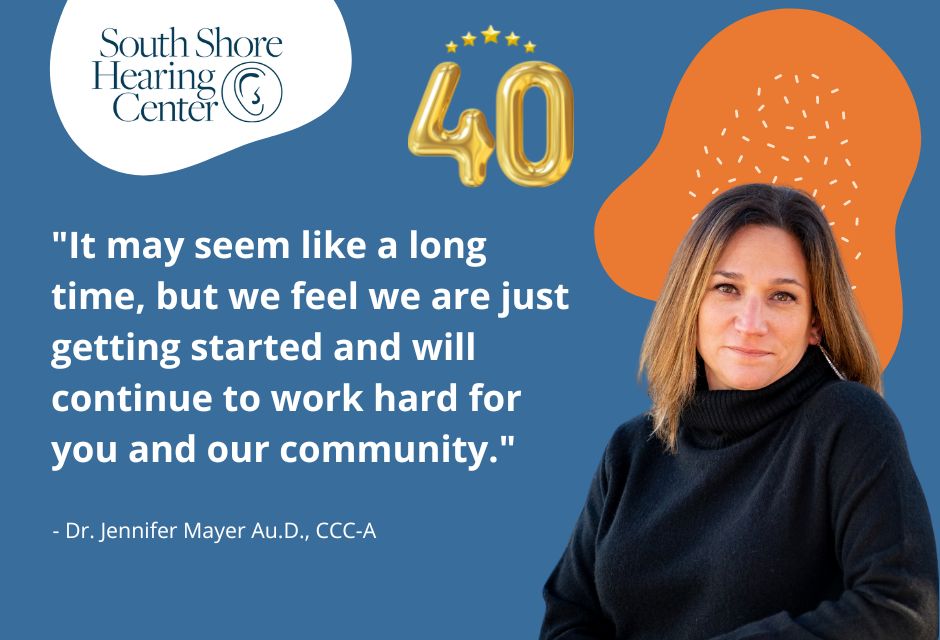 This month marks our 40th anniversary.
It has been our pleasure to help out and be a part of this community by providing the best hearing healthcare we can. Hearing is such an essential part of our lives, both professionally and personally, and many don't realize that until it's taken away. 
Our commitment has extended well beyond our front doors as we try to help those with hearing loss and prevent it from happening to those with healthy hearing. 
The need for audiologists is often understated, and we're ok with that because we don't do this for recognition. Those we help are grateful, and that's all that matters to us. 
Over the years, we have continued to stay up to date on the latest technologies and treatment methods to serve our peers with the utmost quality. We've been doing it for four decades and have no intention of stopping any time soon. 
We thank everyone for their support over the years and look forward to building more relationships with a new generation of people.  
Why We're So Passionate About Hearing Health
Having been in this industry for so long, we see how hearing affects people differently. We are also aware of how many dangers to hearing there are in the world. We're passionate about our work because of how important hearing is to all of us.
Your work and personal life need healthy hearing to maintain your current relationships and to move forward with new opportunities. Discussing issues and presenting new plans are all made easier with the ability to hear.
Our passion stems from being able to see how we help people every day. Giving back someone's hearing to them and letting them know they don't have to struggle usually brings a huge smile. That makes all the hard work worth it.
Ways We Can Help You
Hearing Aids—The options for hearing aids are vast these days. This has pros and cons to it. The pros are that technology moves fast, and there is an excellent chance that a device already exists that will help your specific hearing issue. The downside is that it may be hard to find on your own.
We have extensive knowledge of all the major hearing aid manufacturers and can give you a head start on your search. Once we know the specifics of your hearing impairment, we can recommend the right device and get it programmed precisely to your needs.
Hearing Test—Hearing tests are not only for those who have hearing problems. It's important for everyone to know the status of their hearing so they can protect it and keep it healthy for years to come.
Our hearing tests are extensive and will measure every aspect of how you hear. Once we have a blueprint, we can either help you manage issues or provide suggestions on how to protect your hearing.
Care for Your Entire Family—No matter the age of your family members, we are here for you. Our pediatric audiologists specialize in ensuring that your children have the healthiest hearing. Catching issues early on are crucial to the future of your child's hearing.
We can provide regular testing and check-ups to monitor your child's hearing progress. This will confirm that it's developing into a strong sense to help them through life.
How South Shore Supports the Community
Awareness is something we take seriously and have done for the last four decades. Providing education to the younger generation is especially important. That's why we continue to work with many schools to provide consulting services that assist them in best serving their population.
This education is also extended to the senior population, as we often visit senior centers for informational discussions. The conversations that result from these types of talks makes being an audiologist so rewarding. Whether in the local community or clinic, we are passionate about helping the people of South Shore and Southeast Massachusetts hear better. 
Do You Know Someone Who Could Benefit from Our Experience and Dedication?
We always have room in our clinic to help anyone who needs it. If you have a family member or friend who may have neglected their hearing over the years, please contact us immediately. We have the experience to speak with them and answer all of their questions. 
If they are ready to seek help, please schedule a hearing assessment right away so we can start the healing process. 
We are ready to build on our 40 years of knowledge to keep improving and helping our community in every way possible. But we can't do it without your help. 
Thank you to everyone who has made these past 40 years so special. We look forward to making new friends and creating new memories with healthy hearing.